Re-Naa avarded Restaurant of the Year 2019 by The Nordic Prize
Re-Naa can now rejoice after having been awarded Restaurant of the Year 2019 by The Nordic Prize. This award is highly valued by the restaurant community and is awarded annually to one of five nominated restaurants from the five Nordic countries. Re-Naa is run by Sven Erik Renaa and his wife Torill in Stavanger, Norway, and is a member of Chaîne des Rôtisseurs.
It is a huge achievement, and it is very special to receive such a prize during this turbulent and very difficult time, says Sven Erik Renaa. - I will try anyway to rejoice and celebrate with my team and our guests and be happy for the fact that we continue to have full house and happy guests despite the difficult situation.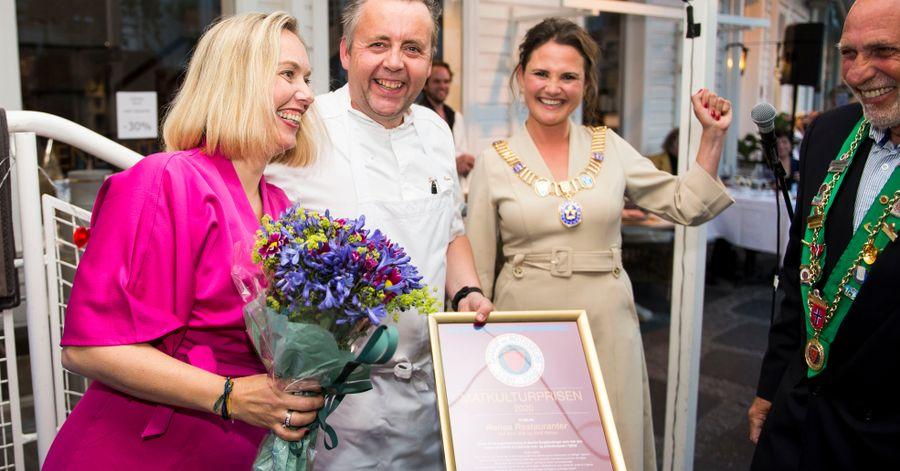 Torill and Sven Erik Renaa, with the major of Stavanger,  Kari Nessa Nordtun receiving the Food Culture Prize 2020 from Mr. Gisle Steffensen, Chaîne des Rôtisseurs Rogaland, Norway.
Photo: Carina Johansen
These were the finalists in The Nordic Prize 2020:  AOC, Copenhagen (DK), Re-Naa, Stavanger (N), Grillid, Reykjavik (IS), Gastrologik, Stockholm (S), Palace, Helsinki (SF).
The prize was established by Bent Christensen in 2009 and has been awarded 11 times.
Re-Naa was awarded a Guide Michelin star in 2017 and kept the star also in 2018 and 2019. Earlier this year they were awarded two Guide Michelin stars, as the only restaurant in Norway. This summer Re-Naa was also awarded the Food Culture Prize 2020 by Chaîne the Rôtisseurs (Rogaland, Norway) for their relentless work to ensure the highest standards and quality in all parts of their restaurants' value chain, and for their passion and dedication to training apprentices, both chefs and waiters.